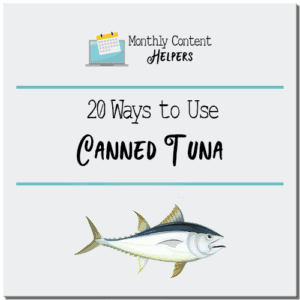 Calling all food enthusiasts! Are you ready to take your canned tuna game to the next level? Look no further because we have the ultimate solution for you!
Over 4000 Word eBook
Introducing the "20 Ways to Use Canned Tuna" PLR eBook, your ticket to affordable and creative culinary adventures. With over 4000 words of pure culinary genius, this eBook is packed with 20 mouthwatering recipes that will transform canned tuna into delicious and healthy meals for you and your family. Get ready to indulge in a world of flavor and discover just how versatile canned tuna can be!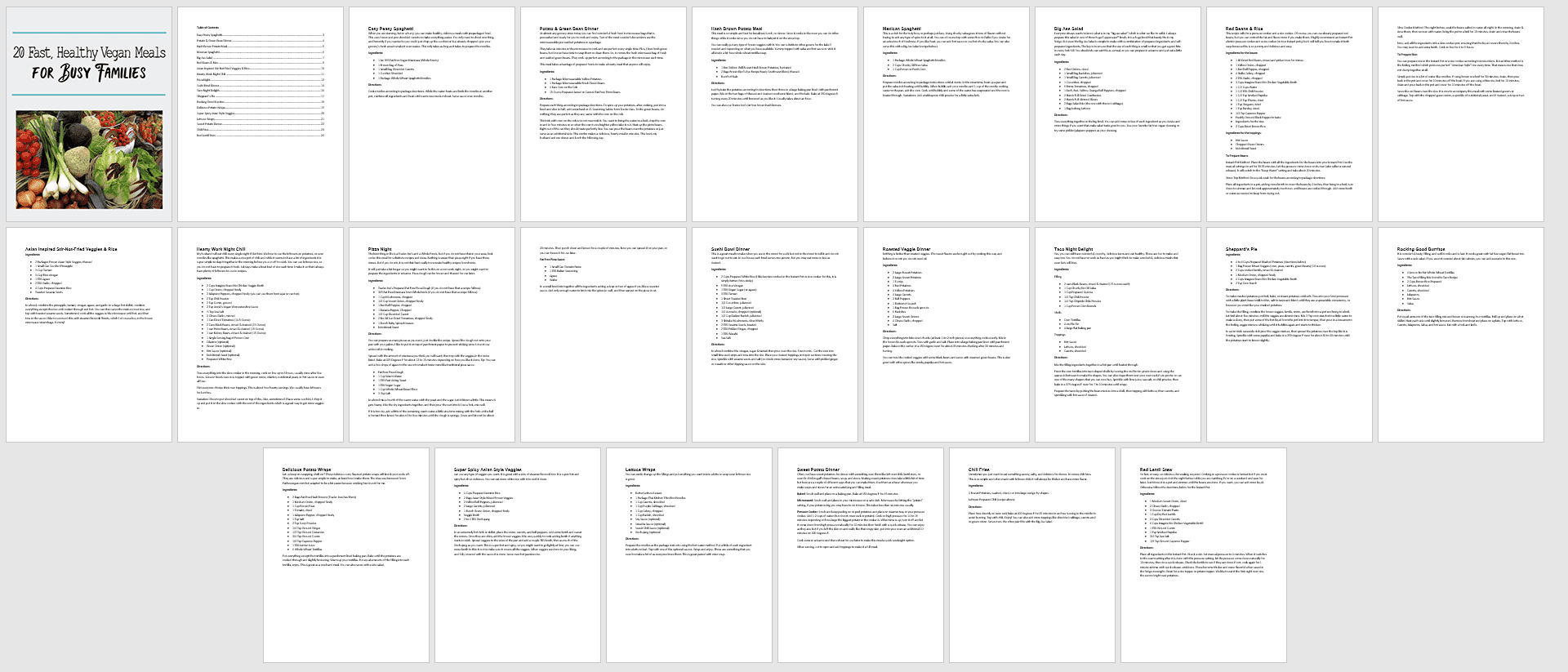 🍽️ A Gastronomic Feast Awaits 🍽️
Get ready to embark on a gastronomic journey as we guide you through these 20 delightful recipes. From the classic and comforting Tuna Melt to the creamy and savory Tuna Risotto, each recipe is carefully crafted to showcase the incredible potential of canned tuna. Whether you're craving a hearty casserole, a delectable salad, or even zesty Asian-inspired flavors, this PLR eBook has you covered!
Recipes
Tuna Melt: Indulge in classic comfort food with a twist! This recipe combines perfectly toasted bread, melted cheese, and a flavorful tuna salad filling. It's the ultimate combination of gooey, cheesy goodness and the savory delight of canned tuna.
Tuna Risotto: Elevate your dinner table with this creamy and luxurious dish. Our Tuna Risotto features the perfect balance of Arborio rice, rich broth, and tender flakes of tuna. With each bite, you'll savor the delightful blend of flavors and textures that will leave you craving for more.
Tuna Casserole: Dive into a heartwarming meal that brings back nostalgic memories. Our Tuna Casserole combines al dente pasta, a creamy sauce, and chunks of tuna, all topped with a crispy golden crust. It's a comforting and satisfying dish that's perfect for family gatherings or cozy evenings at home.
Tuna Potpie: Experience pure comfort in every bite with our Tuna Potpie. Delicate flaky pastry envelops a creamy filling of tuna, vegetables, and a medley of savory seasonings. This dish is a true crowd-pleaser, sure to warm your heart and bring smiles to the faces around your dinner table.
Tuna Salad: Enjoy a classic staple that never goes out of style. Our Tuna Salad is a refreshing blend of canned tuna, crisp vegetables, and a tangy dressing. Whether you serve it on a bed of fresh greens, between slices of bread, or as a dip for crackers, this recipe is a go-to for quick and delicious meals.
Tuna Macaroni Salad: Add a twist to the traditional macaroni salad with the addition of flavorful tuna. This delightful dish combines tender macaroni, crunchy vegetables, and a creamy dressing infused with the savory goodness of canned tuna. It's the perfect side dish for picnics, potlucks, or any occasion that calls for a tasty crowd-pleaser.
Tuna Chowder: Warm your soul with a hearty bowl of Tuna Chowder. Creamy, thick, and packed with chunks of tuna, potatoes, and aromatic spices, this soup is a comfort food lover's dream come true. Each spoonful will transport you to a cozy seaside cottage, with the rich flavors of the ocean dancing on your palate.
Tuna Burgers: Elevate your burger game with our mouthwatering Tuna Burgers. These flavorful patties are made with a combination of canned tuna, breadcrumbs, and a blend of herbs and spices. Served on a toasted bun with your favorite toppings, these burgers are a delightful alternative to the traditional beef patty.
Tuna Pasta with Peas: Indulge in a simple yet satisfying pasta dish that bursts with flavor. Our Tuna Pasta with Peas combines al dente pasta, tender peas, and flaky tuna in a light and zesty sauce. It's a quick and easy recipe that's perfect for busy weeknights when you want a delicious meal without the fuss.
Tuna Croquettes: Experience crispy goodness with our delightful Tuna Croquettes. These golden-brown delights feature a mixture of canned tuna, breadcrumbs, and aromatic seasonings. With their crunchy exterior and moist, flavorful interior, these croquettes are a crowd-pleasing appetizer or a satisfying main course option.
Tuna Loaf: Prepare to be amazed by our delectable Tuna Loaf. Bursting with flavor and moist texture, this recipe combines canned tuna with breadcrumbs, herbs, and a touch of tangy sauce. Baked to perfection, it's a delightful twist on the classic meatloaf that will leave you craving for seconds.
Tuna Stuffed Peppers: Elevate your stuffed pepper game with our tantalizing Tuna Stuffed Peppers. Colorful bell peppers are filled with a delectable mixture of canned tuna, rice, vegetables, and savory seasonings. Baked until tender and bursting with flavor, these stuffed peppers are both visually appealing and incredibly satisfying.
Tuna Stuffed Tomatoes: Experience a burst of freshness with our Tuna Stuffed Tomatoes. These vibrant tomatoes are filled with a delightful combination of flaky tuna, fresh herbs, and a hint of tangy dressing. Each bite is a refreshing explosion of flavors that celebrates the beauty of simple and wholesome ingredients.
Tuna and Peas on Toast: Elevate your breakfast or brunch with this simple yet scrumptious recipe. Tuna and Peas on Toast features a creamy tuna and pea mixture spread over toasted bread. It's a quick and satisfying meal that brings together the vibrant flavors of canned tuna and sweet peas for a delightful start to your day.
Tuna Fried Rice: Take your taste buds on an Asian-inspired culinary adventure with our Tuna Fried Rice. This flavorful dish combines fluffy rice, aromatic stir-fried vegetables, and chunks of savory tuna. With the perfect balance of textures and a hint of soy sauce, it's a meal that will transport you to the bustling streets of an Asian night market.
Tuna Garden Salad: Delight in a refreshing and nutritious Tuna Garden Salad. Crisp mixed greens, vibrant vegetables, and tender chunks of canned tuna are tossed together with a light and tangy dressing. It's a salad that not only satisfies your cravings but also nourishes your body with wholesome ingredients and vibrant flavors.
Tuna Wraps: Embark on a flavor-packed journey with our tantalizing Tuna Wraps. These handheld delights feature a combination of canned tuna, crunchy vegetables, and a zesty dressing, all wrapped in a soft tortilla. They're perfect for on-the-go meals or a light and satisfying lunch that never compromises on taste.
Tuna Roll Bowl: Experience the beauty of a sushi roll in a convenient and bowl-friendly format. Our Tuna Roll Bowl combines fresh tuna, vibrant vegetables, and sticky sushi rice, all topped with a drizzle of tangy sauce. It's a delightful and visually appealing dish that captures the essence of sushi in a more accessible way.
Tuna Salad Asian Style: Take your taste buds on a journey to the Far East with our Tuna Salad Asian Style. This vibrant salad combines the umami flavors of canned tuna with a variety of Asian-inspired ingredients like sesame oil, soy sauce, and crunchy vegetables. It's a fusion of flavors that will leave your palate tingling with delight.
Tuna Zucchini Boats: Indulge in a low-carb delight with our Tuna Zucchini Boats. Tender zucchini halves are filled with a tantalizing mixture of canned tuna, herbs, and a sprinkle of cheese. Baked to perfection, these boats offer a healthy and satisfying meal that's as delicious as it is visually appealing.
📚 Elevate Your Tuna Game 📚
This cookbook isn't just about recipes; it's about transforming canned tuna into culinary masterpieces. Say goodbye to boring tuna salads and hello to Tuna Stuffed Peppers, Tuna Potpie, and Tuna Croquettes! We'll show you how to turn simple ingredients into extraordinary meals that will wow your taste buds and leave you craving more.
💰 Incredible Value at an Unbeatable Price! 💰
Here's the best part – you can get your hands on the "20 Ways to Use Canned Tuna" PLR eBook for an unbelievably low price. For just $9.97, you'll gain access to a treasure trove of culinary inspiration and elevate your meal planning to new heights. It's an investment in deliciousness that will pay off with every mouthwatering bite!
🎉 Grab Your Copy Today and Unleash Tuna Magic! 🎉
Don't miss out on this fantastic opportunity to transform your canned tuna meals into culinary sensations. Order your copy of "The Tuna Transformation: 20 Recipes to Elevate Canned Tuna!" now and unlock the secrets to turning humble canned tuna into gourmet delights. Get ready to amaze yourself and your loved ones with these fun yet professional recipes that will revolutionize the way you see canned tuna!
✨ Order now and let the tuna transformation begin! ✨
Get this 20 Ways to Use Canned Tuna PLR eBook for a TOTAL cost of ONLY9.97!