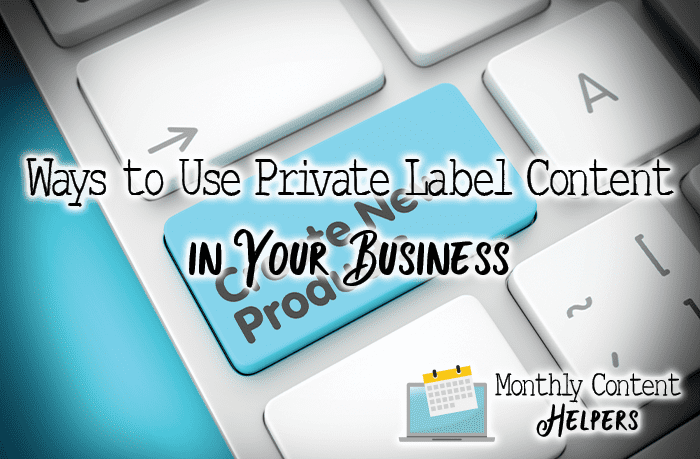 Private Label Content is the type of content you can use as your own. When you buy PLR content, you will obtain a license for it, permitting you to re-package the content in your own name and brand (with the exception of copyright). This just means that you have the right to modify, repurpose, resell, or sell the private label rights content in a lot of different formats.
In a nutshell, PLR content provides you with the right to alter, edit, or modify the content therein in any way you desire.
Private label rights content is available in different formats, such as sales page copy, sales form copy, email marketing copy, blog copy, eBooks, reports, whitepapers, email newsletters, templates, graphics, articles, and even videos, among others.
Advantages of Private Label Rights Content
It saves money and time, unlike employing writers or purchasing exclusive rights
You will gain a reputation as a professional in a particular field or subject when you don't even understand anything about it.
Ways to Use Private Label Content in Your Business
You will want to think about using private label rights content, particularly if you are into content marketing. Private label content is available with various rights, based on the developer. Checking each license thoroughly before use is very important. Also, you will be familiar with the restrictions in place.
There are different ways to use private label content in your business. Make your content state-of-the-art, informative, regular, and much easier than when you do it all alone, by using PLR content in these diverse ways:
Make an eBook with your PLR content: Private label rights is a simple and best way to help you produce your eBook if you are not selling the book on Kindle or similar platforms.
Newsletter: Using private label rights content in your newsletter is a great way to make use of PLR, particularly if you are not posting online, for fear of plagiarism or duplicate content.
Online Course: You can create an online course, using your private label right content. You can deliver the content through video, website, or run a webinar on the subject and answer questions at the end if such material is all about lists or how to. Also, you can feed the content into an auto-responder system and drip the same to your audience to help them learn new things.
Use Private Label Rights Content with Original Content: Combining original content with private label rights content is one of the best ways to use private label content in your business. In this case, get started with the PLR, offer a lot of the findings, and combine this with the content you created to come up with something unique and new. Your content can also be interesting, useful, and appealing when you combine many different formats.
Want more? Check out this free report we just released on using your PLR: I Bought PLR… Now What?!
We've also included a handy checklist outlining each suggested step.