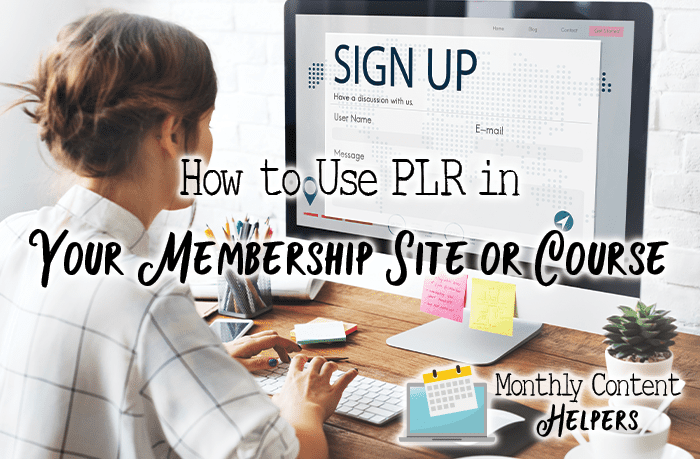 How to Use PLR in Your Membership Site or Course
If you need a way to create or enhance your course or membership website, private label rights (PLR) content is a great option.
What is PLR?
PLR content is simply content a professional writer creates that is then sold or distributed with the right to edit, brand, and use as you see fit. If it sounds odd, understand that this concept is nothing new.
Reusable and re-brandable content has been around for as long as magazines, newspapers, and newsletters have. In the old days of publishing, the organization would pay a yearly membership for access to articles, images, and more that they could use as their own in their local publications. Back then, the organization would receive the copy in the mail in a huge envelope!
Today, finding the right PLR for your needs is easier than ever, and thankfully, you receive it digitally instead of printed on paper. They used it back then, and they use it now — because using PLR has lots of benefits for the publisher.
There are numerous benefits of using PLR to create your content. Three huge benefits are:
PLR saves you a ton of time and energy you would otherwise spend creating your own content from scratch.
PLR provides professional-looking, informative content for your website without hiring a pricey copywriter or content creator.
Using PLR ensures that you quickly build a comprehensive course or membership site without producing all the content yourself.
These benefits are excellent, but there are a few things to remember if you use PLR content on your membership site.
Make it Your Own
Don't just copy and paste the PLR content verbatim onto your site. Instead, use it as part of a course or part of a membership site instead of the central part of your website or forward-facing blog.
Choose High-Quality PLR Content
There's a lot of junk PLR out there, so it's essential to take the time to find quality content that will help your site visitors. Here at MCH, we only recommend high-quality PLR, so if you use our links, you can be assured its great content
Get Creative with Your PLR Content
Just because someone else has already written the content doesn't mean you can't put your own spin on it. Add your own voice, style, and personality to the PLR content you use on your site. For example, add examples, case studies, and proof of concept to the PLR.
The greatest thing about using private label rights is the speed at which you can get up and running.
For example, if you use PLR in your membership site, you can:
Create content for your members to consume
You can use PLR to create blog posts, articles, eBooks, courses, video training, and more. Your members will appreciate having a steady stream of new content to consume, and you'll be able to easily add it to your site without having to create everything from scratch.
You can use PLR as a lead magnet to attract new members to your site. For example, offer a free checklist or eBook that tells them how to solve one of their problems in exchange for an email address. This is a great way to grow your list and get more people interested in what you have to offer.
Create an exclusive PLR library for members
Another great way to use PLR in your membership site is to create an exclusive and targeted content library only members can access. This will give them even more value for being a member of your site and encourage people to sign up in the first place.
Use it to create bonuses for members
You can also use PLR to create bonuses for your members. For example, if you make a sale, you can include bonus content like checklists, workbooks, tips, tricks, and more. This is a great way to add even more value for your customers and make them more likely to buy from you again.
Want to Learn More?
To learn more about creating a membership site and making money from it, our friend Cindy Bidar has put her Membership Site Mastery course on sale. She knows how to help you ensure you have a predictable income that you can count on with a membership website.
She teaches you which systems to use to have a well-maintained website that practically runs itself. She'll show you how to plan, build, and grow your online memberships. So, if you aren't sure what to do with all that PLR you've bought, once you learn what she has to teach you, you'll know exactly what to do!