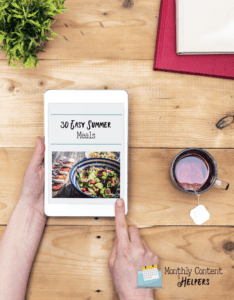 This package helps you get organized, shop for, and plan the preparation of easy summer meals. You'll get 30 recipes in book form as well as 25 social media meme images that will help you market your recipe book, cooking methods, or tools of the trade to your audience.
Included in this package:
Over 9000 Word eBook
This eBook shares 30 recipes along with notes and tips for excellent preparation of each recipe included. It's essentially a cookbook that has been done for you. They're all easy to make, with clear instructions and timing. You can't go wrong with these recipes.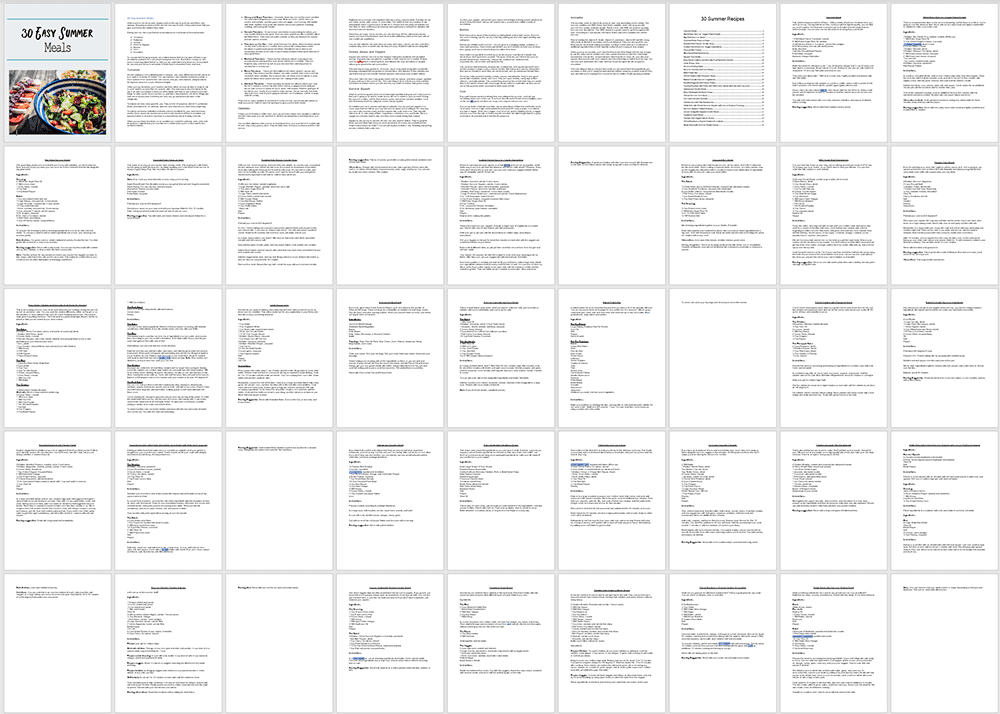 30 Meals with Recipes
Caprese Salad
Skillet Easy Summer Veggie Pasta Delight
Big Giant Summer Salad
Zucchini-Pesto Pizza on Naan
Roasted Red Pepper Tomato Soup
Loaded Grilled Summer Veggie Quesadillas
Chopped BLT Salad
BBQ Roast Beef Sandwiches
Squash Taco Boats
Easy Salsa Chicken and Rice with Fruit Salad for Dessert
Lentil Sloppy Joes
Sonoran Hotdog Night
Summer Zucchini and Corn Salad
Baked Potato Bar
Grilled Chicken with Pineapple Salsa
Baked Cod with Summer Vegetables
Roasted Eggplant and Pepper Pasta
Zucchini Noodles with Pesto and Watermelon Salad with Feta and Cucumber
Vietnamese Noodle Salad
Easy Weeknight Sandwich Wraps
Chilled Summer Corn Soup
Corn and Zucchini Chowder
Chicken Avocado Pita Sandwiches
White Fish with Grilled Summer Squash with Lemon Scallion Dressing
Summer Squash Chicken Kabobs
Lemon Vinaigrette Squash Zoodle Salad
Vegetable Sushi Bowls
Chicken and Veggie Lettuce Wraps
Grilled Blackberry Glazed Chicken Drumsticks
Steak Salad with Summer Radish Salad
25 Social Media Images
Professionally designed social media images that you can use to promote however you want.
30 Easy Summer Meals PLR Bundle
with all this for a TOTAL cost of ONLY $27!