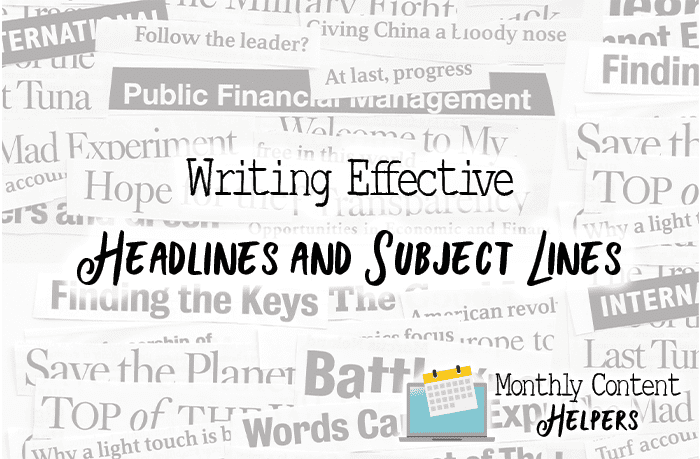 The first thing to remember when crafting effective headlines or subject lines for email is that a compelling headline must appeal to your reader's self-interest. Your audience only cares about what is in it for them. It is not that they are self-centered or anything, but that's the entire point of them being on the web looking for information on how to solve their problems – to find a solution.
Your audience does not care about you or your needs. They only care about what is in it for them. Knowing this vital information about your audience enables you to use it to create better attention-grabbing headlines. Your job, regardless of the product or service you create and promote, is to solve problems for your specific audience. If you can identify two or three pain points that you can solve, you have identified words you can use to craft an effective headline.
For example, if you sell Virtual Assistant services, you're not really selling each individual service or task – no, you're selling time freedom, or you're selling a skill that your customer can add to their repertoire. You're selling the ability for your client to work on their business instead of in their business. So, you might want to use the word "freedom" or the name of the skill you're adding in your headline while promoting your time saving and freeing service.
A headline should attract the audience you want to attract. You can do that by mentioning them by name or just by mentioning their problem or pain points. They need to know exactly who you're talking about, so they know it's them, and when they know it's about them, they'll want to know more.
For example, using the VA example above, you may have an ideal audience that consists of Life Coaches. You can use the name of the profession you're targeting in your headline so that there's no mistaking who you want to help.
To be even more effective, a persuasive headline should include clear language that your audience understands. Avoid using too much jargon, though. However, you do want to use words that stand out and mean something to your specific audience.
For example, let us say that you provide services managing social media marketing solutions to business coaches or trainers.
Your headline might read: Coaches: (or Trainers) Get More Freedom and More Leads. Then lead into how you will do that in the content of the sales page or copy on the website right at the top.
Additional ways to get attention for your headlines include using current events and humor in your headlines, too, but you do not want to confuse your audience or mislead them in any way. So, do not try to be too clever. The point of writing a headline or subject line is to be found, stop emails from bouncing, qualify your visitors, keep them on your pages, and / or increase conversion rates.
When writing effective headlines, answer these questions:
What are you selling? Are you selling more time, freedom, safety, assurance? Think outside the box and think about what the results are of your solution.
Who are you selling to? Create a segmented audience persona or avatar for whom the headline is being created based on where the ideal audience is in their buying journey.
What are the benefits of your offering? Think like your customer and list the benefits. These are all words that can be used in the headline. Never list a single feature that you cannot tie to a benefit.
What pain points can you solve? You want to pick one of them to use in your headline.
What are some unique facts about your product or service? You may not use this in your headline directly, but it can help you brainstorm the right persuasive words.
What are the keywords or keywords phrases you can add to the headline? Studying keywords is essential for headlines and everything you do. An excellent way to study keywords is to use an outside service like iSpionage.com that enables you to look at the keywords your competitors are using.
As you craft the headline, the most important words, the keywords or main benefit, should be at the front of the headline or subject line. It takes a little practice, but with A / B testing, you'll become an expert in crafting effective headlines in no time.