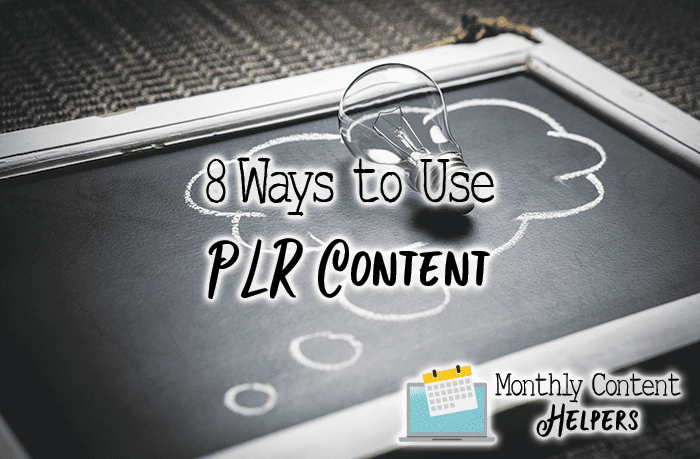 Sometimes people ask us how to use the private label content that they offer, but it's easy. The great thing about good PLR is that all the research has been completed for you. You can trust the information and just get on with using the content. Let's look at various ways you can use the PLR you buy.
On Your Blog
Some people will say that you cannot use PLR on your blog, but you can. Just change it up a little bit so that it looks unique. Add some of your own stories, change the titles, change the keyword focus. Use the information as research and create your blog post within minutes.
As a Webinar Topic
A fabulous use for PLR is to take an article and make it a webinar. For example, if you have a blog post called 10 Ways to Get More Clients and you're a coach that helps service providers get more clients, you can use this as a webinar topic. At the end of your webinar promote your coaching.
As a YouTube Channel Vlog
Just like you used the 10-point blog post to create a webinar topic, you can also use it to create a YouTube video. You can turn a multi point blog post into several videos using only one to three points (if they're short) for each video. Remember that you really want to keep YouTube videos short, two to three minutes is plenty.
Combined to Create a Report
Anytime you buy many blog posts, or other information such as checklists and so forth as PLR you can always combine it, even if it doesn't come from the same provider. Read through it to make sure everything matches so you don't contradict yourself, add transitions between articles and you're done.
In Your Membership Site
Always check your license to make sure it's okay to add any product to your member shit (all MCH's allow it) but you can buy the content and usually throw it right up into your member site. Let's say you have a membership site for homemakers, and you find content here about meal planning, that's perfect for your member site and your members will love it. Why bother editing it other than to add your branding if you want to? Just get it up to save time and thrill your members.
As an Infographic
Any article or blog post that has a lot of data in it is perfect for creating an infographic. You can make infographics using Canva.com or other online solutions easily. Just chose your images, cut and paste the facts, and you have it done fast.
As an Ethical Bribe
One way to get more members, email sign-ups, group members on Facebook and so forth is to give away ethical bribes. An ethical bribe is also called a Lead Magnet, or a freebie. You've probably downloaded them before yourself. In exchange for the free item, the lead gives you their information. Most PLR is perfect for this. All MCH PLR can be used for ethical bribes.
Email List Content
Once you get people on your email list you need to provide regular content to them. If you don't, they're going to forget they signed up and then if you are dormant for a year and finally send them something they may even report you for spam. Instead, set up a series using PLR so that everyone who signs up gets emails at least weekly. You can always add more current information as you go.
Using PLR doesn't have to be complicated. If you know what type of PLR you need for your audience, and what you're going to do with it before you purchase it, then you'll have a much easier time putting it to use.
After all, that's the entire point of buying PLR right?
If you really need extra help with using PLR you can get help from the queen of implementation Kelly McCausey with her PLR Review Coaching. She'll look at what you have and help you get use from it.