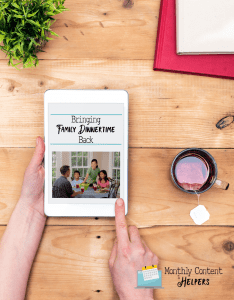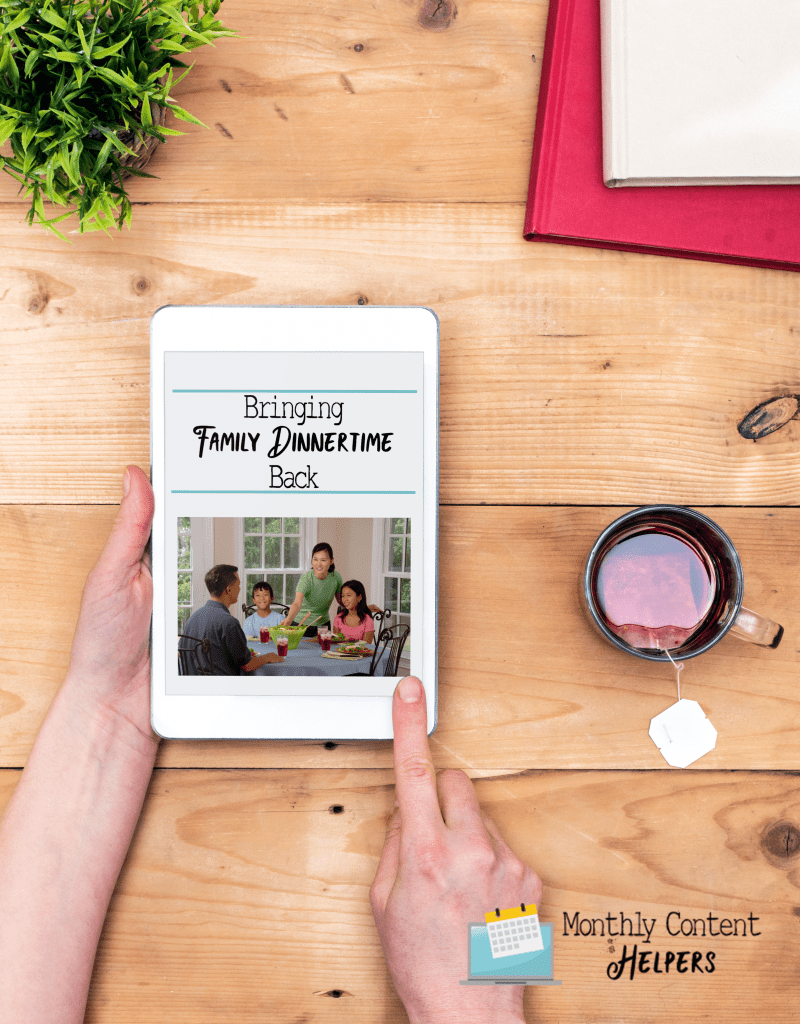 Introducing the "Bringing Family Dinnertime Back" PLR Bundle
Where fun, togetherness, and delicious meals come together in perfect harmony! Elevate your family dinners to new heights with this incredible package that not only brings you a wealth of knowledge but also provides a dash of creativity to make it uniquely yours.
Prepare to be amazed by what awaits you in this fantastic bundle:
Over 5000 Word eBook
Dive into the world of family dinners with this comprehensive eBook. Discover the countless benefits of dining together while realizing that it's simpler than you think! Uncover the secrets of creating a delightful atmosphere, and spice up your conversations with engaging starters. This eBook will help you make the most out of your family dinners.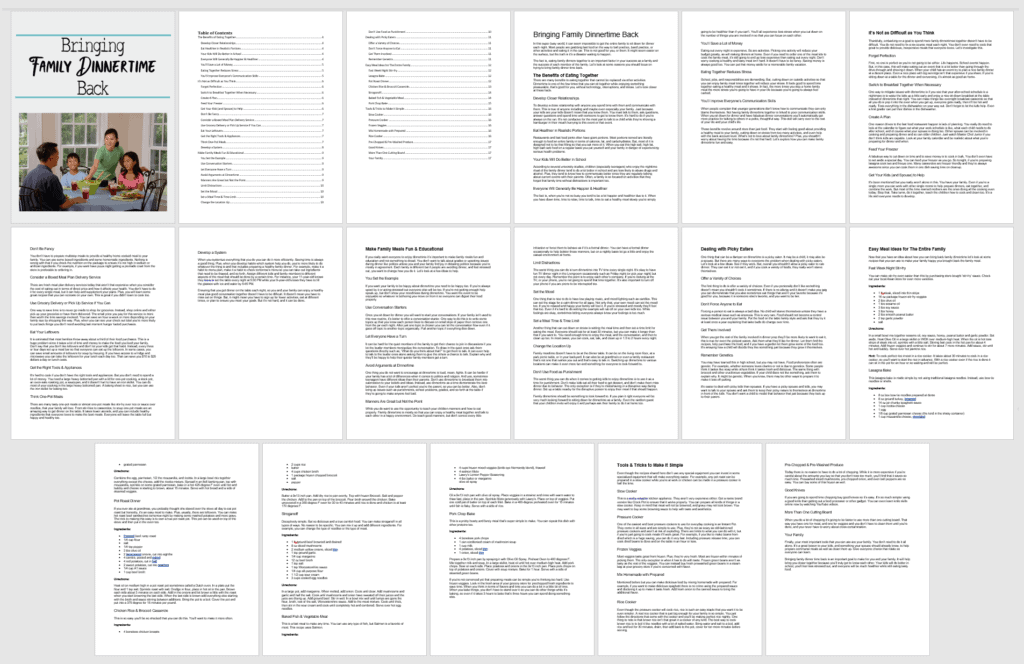 7 Simple Recipes
Say goodbye to kitchen stress! These easy recipes will be your ultimate saviors. Customize them with your preferred brand names, mouthwatering pictures, and even add your treasured family recipes. Consider this collection your passport to effortless and enjoyable family cooking.
Recipes that await your culinary adventures:
Fast Week Night Stir-fry: Whip up a quick and flavorful stir-fry that's perfect for those busy weeknights. Bursting with vibrant veggies and succulent meat, this recipe will have dinner on the table in a flash!
Lasagna Bake: Indulge in layers of cheesy goodness with our mouthwatering lasagna bake. This classic comfort food is made with love, combining perfectly seasoned meat, rich tomato sauce, and oodles of melted cheese. It's a guaranteed crowd-pleaser!
Pot Roast Dinner: Treat your taste buds to the ultimate comfort meal with our tender and juicy pot roast dinner. Slow-cooked to perfection, this dish is packed with savory flavors that will transport you straight to a cozy Sunday dinner at Grandma's house.
Chicken Rice & Broccoli Casserole: Satisfy your cravings with our delectable chicken rice and broccoli casserole. This one-pot wonder brings together tender chicken, fluffy rice, and nutritious broccoli in a creamy, cheesy sauce. It's a wholesome and flavorful dish that the whole family will love!
Stroganoff: Indulge in the rich and creamy goodness of our classic stroganoff. Browned ground beef smothered in a luscious mushroom and sour cream sauce creates a dish that's both elegant and comforting. It's a timeless favorite that will have you coming back for seconds!
Baked Fish & Vegetable Meal: Delight your palate with our nutritious and flavorful baked fish and vegetable meal. Fresh fish fillets are perfectly seasoned and accompanied by a colorful medley of roasted vegetables. It's a light and wholesome option that doesn't skimp on taste.
Pork Chop Bake: Sink your teeth into our succulent pork chop bake, where juicy chops are coated in a savory marinade and baked to perfection. With its crispy exterior and tender interior, this dish will have you savoring every delightful bite. It is comfort food elevated to new heights!
Enjoy the pleasure of cooking these delightful recipes that balance fun and professionalism, bringing joy to your family's dinnertime experiences.
10 Social Media Images
Get ready to showcase your family dinner extravaganza with professionally designed social media images. These eye-catching visuals will make promoting your package a breeze!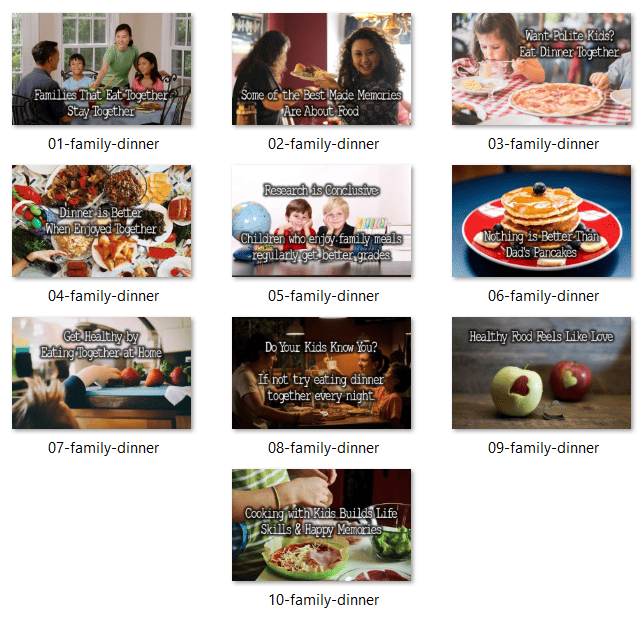 10 Emails
Enhance your email marketing game with these family-dinner-focused gems. Inject enthusiasm into your autoresponder and effortlessly spread the idea that sharing a meal as a family is not only simple but also brings immeasurable benefits and joy.
Catchy Email Topics:
Benefits of Eating Together: Discover the amazing perks of gathering around the table as a family. From fostering stronger connections to promoting healthier eating habits, the benefits of eating together are plentiful. Uncover the power of shared meals and create memories that will last a lifetime.
Cooking Tools That Make It Easy: Take your culinary adventures to new heights with the right cooking tools. From handy gadgets to innovative appliances, these kitchen essentials will make meal preparation a breeze. Embrace the joy of cooking and let these tools simplify your time in the kitchen.
Family Bonding: Experience the magic of family bonding through shared meals. Strengthen relationships, foster open communication, and create a sense of togetherness. Whether it's a lively dinner conversation or a special tradition, family bonding around the table creates cherished memories that will be cherished for years to come.
How to Get Kids to Help Cook Dinner: Get your little ones involved in the kitchen and turn cooking into a fun and educational experience. Discover practical tips and creative strategies to engage kids in meal preparation. From measuring ingredients to stirring the pot, cooking together will not only nurture their culinary skills but also teach valuable life lessons.
Respect Your Spouse More: Uncover how the simple act of sharing a meal can deepen your appreciation and respect for your spouse. By setting aside time to eat together, you create an opportunity to reconnect, listen, and support each other. Let the power of shared meals strengthen your relationship and bring you closer than ever before.
Teach Kids to Communicate: Explore the significance of family dinners in teaching children essential communication skills. From expressing themselves to active listening, the dinner table provides a nurturing environment for kids to learn and practice effective communication. Watch as their confidence and social skills flourish.
Teaching Children Manners: Instill good manners in your children through the shared experience of family dinners. Discover practical strategies to teach proper table etiquette, gratitude, and respect. Create a warm and welcoming atmosphere where everyone feels valued and manners become second nature.
The Drawbacks of Too Many Afterschool Activities: While extracurricular activities are important, it's crucial to strike a balance. Learn about the potential downsides of overwhelming your family's schedule with too many after-school activities. Find harmony by prioritizing quality time together and the benefits of shared meals.
Tips to Cook Faster: Busy schedules don't have to mean sacrificing delicious and nutritious meals. Discover clever tips and techniques to speed up your cooking process without compromising on flavor or quality. Master the art of efficient meal preparation and enjoy more time with your loved ones.
Why Families Resist Eating Together: Explore the common challenges and reasons families resist eating together. From busy schedules to digital distractions, uncover the underlying factors that hinder family meals. Address these barriers and rediscover the joy and importance of coming together as a family around the dinner table.
10 Blog Posts
Transform your blog into a hub of inspiration and motivation. These captivating posts will not only promote the concept of family dinners but also entice readers to join your email list. Let the power of your words ignite their curiosity and ignite their passion for family togetherness.
Engaging Blog Post Topics:
Benefits of Eating Together as a Family: Uncover the incredible benefits that come with gathering your loved ones around the dinner table. From strengthening family bonds to promoting healthier eating habits, discover how shared meals can enhance your family's well-being and create lasting memories.
Children Learn Better Manners from Parents: Discover the secret sauce to raising well-mannered children – family dinners! Witness how children observe and learn from their parents' etiquette and behavior during meals. Instill values of respect, gratitude, and proper table manners that will shape their character for a lifetime.
Families Who Eat Together Stay Together: Embrace the power of togetherness and witness how shared meals strengthen family ties. Explore the research-backed benefits of regular family dinners, from fostering deeper connections to building a strong support system. Create a tradition of unity and love that will withstand the test of time.
Family Dinner Improves Communication Skills: Unleash the magic of family dinners in enhancing communication skills. Engage in meaningful conversations, active listening, and open dialogue as you share delicious meals. Discover how the dinner table becomes a hub for nurturing effective communication and building stronger relationships within your family.
Fun Dinner Conversation Starters: Spice up your family dinners with engaging and entertaining conversation starters. Unleash laughter, spark creativity, and deepen connections through thought-provoking questions and lively discussions. Let the dinner table be the stage for unforgettable moments and shared laughter.
Reasons to Curtail Too Many After-School Activities: Explore the importance of striking a balance when it comes to after-school activities. Delve into the potential drawbacks of overscheduling and rediscover the value of quality family time. Find harmony by creating space for shared meals and meaningful connections amidst the hustle and bustle of extracurricular commitments.
Regular Family Dinner Improves Grades: Uncover the surprising link between regular family dinners and academic success. Discover how the simple act of eating together as a family can positively impact children's academic performance, concentration, and overall well-being. Watch as grades soar and educational goals are achieved.
Tools That Make Cooking Easier: Empower yourself in the kitchen with essential tools that make cooking a breeze. Discover innovative gadgets, time-saving appliances, and kitchen hacks that will streamline your culinary adventures. Elevate your cooking experience and unleash your inner chef with confidence.
Why Eat Together as a Family: Explore the compelling reasons why sharing meals as a family is more important than ever. From fostering deeper connections to promoting healthy eating habits and instilling family values, discover how the dinner table becomes a sanctuary of love, support, and growth.
Why Families Don't Eat Together Anymore: Uncover the societal shifts and challenges that have led to a decline in family meals. Explore the factors contributing to the loss of this cherished tradition and the impact it has on family dynamics. Gain insights into how to reclaim and prioritize family dinners in today's fast-paced world.
Are you ready for the grand finale? All this awesomeness can be yours for the incredible value of just $47! Yes, you read that right – a total steal!
Don't miss out on this extraordinary opportunity to revitalize your family dinners. Grab the "Bringing Family Dinnertime Back" PLR Bundle today and savor the joy of creating lasting memories, relishing mouthwatering meals, and strengthening the bonds of love. Get ready to embark on a remarkable journey that will leave you hungry for more!
Grab the Bringing Family Dinnertime Back PLR Bundle
Today for a TOTAL cost of ONLY $47!