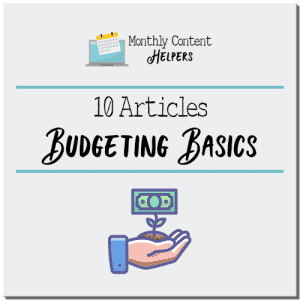 This package of 10 Articles helps take the fear and mystery out of creating a family budget that doesn't involve suffering. If you want to create a family budget or teach your tribe all about budgeting the easy way, Budgeting Basics is the article set for you.
Each article is a minimum of 450 words each, grammatically correct, and financially sound.
List of Articles
Budget Basics
Customize Your Budget to Fit Your Family
Do You Really Need an Emergency Fund?
Tips to Getting Everyone on Board
A Healthy Outlook
How to Know When You Need a Family Budget
Keys to a Successful Family Budget
Practical Steps to Getting Started on a Family Budget
Make It a Part of Your Family's Budget
Top Tips for Sticking with Your Budget
Grab this 10 Pack for Family Budgeting right now so that you can get your financial life in order or help others get theirs in order. You can turn these ten articles into a report, an e-course, or a webinar series. It's totally up to you.
Get these Budgeting Basics PLR Articles
for a TOTAL cost of ONLY $9.97!