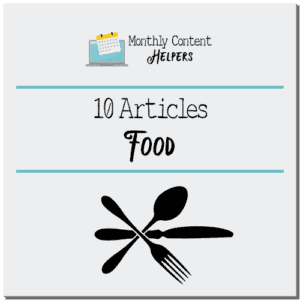 Need food-related articles for your blog or website? These food articles will give you the tools to create food-related content. Each is at least 450 words long, well written, can be backed up by research, and you can use them however you want. Turn them into autoresponder emails, create a course, or combine them to create a book. It's up to you.
List of Articles
Creative Ideas for Making Family Cooking Fun
Eating Well on a Shoestring Budget
Fast Snack Ideas Kids Love
Quick, Easy, and Cheap – Five Family Meal Ideas
Five Ways to Save Money at the Supermarket
Healthy Kid-Friendly Food Ideas
How to Have a Healthy Breakfast Every Day in Less Than Ten Minutes
How to Meal Plan – Tips and Ideas
Quick Meal Ideas for Busy Moms
Simple Tips to Get More Veggies into Your Family's Diet
Grab this 10 Pack of Food Articles right now to learn about this weight loss method. You can turn these ten articles into a report, an e-course, or a webinar series. It's totally up to you.
Get these Food PLR Articles
for a TOTAL cost of ONLY $9.97!