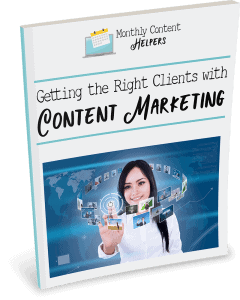 This eBook focuses on creating content for the service-provider, teaches about the importance of content marketing, the reason behind it, and the way to go about it by understanding your buyer's journey. Plus, you will learn how to use private label rights content too. Stephanie and Shannon's over 30 years of combined experience shows in this informative book.
You'll Learn:
Why You Should Be Your Own Best Client First
Why Your Business's Appearance to Others is Important
Why Content is Important
What Constitutes Content
How Much Content You Really Need
How to use Private Label Content and So Much More
You can get this book today and by tomorrow get started creating content for your Virtual Assistant website that helps you get more business.
Get the "Getting the Right Clients with Content Marketing" eBook for a TOTAL cost of ONLY $17.00!