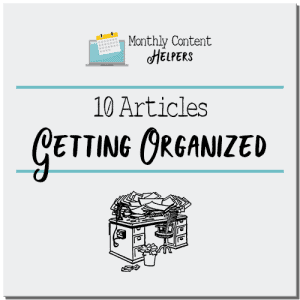 Introducing our amazing collection of Getting Organized articles, where professionalism meets fun! These articles are not only well-written but also packed with creativity, containing a minimum of 450 words each. They can effortlessly serve as engaging blog posts, captivating email autoresponder articles, or even be combined to form an impressive eBook. The possibilities are boundless, limited only by your own imagination.
Now, let's dive into the treasure trove of articles that await you:
Closet Organization: Unlock the secrets to transforming your chaotic closet into a haven of order and style.
Getting Your Digital Life Organized: Discover the essential tips and tricks to decluttering your digital space, ensuring a seamless and stress-free online experience.
Home Organization: Unleash the magic of tidiness as you explore innovative ways to streamline your home, creating an oasis of tranquility.
Kitchen Organization: Spice up your culinary adventures with expert guidance on how to revolutionize your kitchen, making cooking a breeze.
Learning to Be Organized: Uncover the art of organization and unlock your full potential, as you master the skills that will enhance every aspect of your life.
Minimizing Clutter: Say goodbye to the chaos and embrace the art of minimalism, bringing peace and serenity to your living spaces.
Office Organization: Boost your productivity and conquer the clutter in your workspace, transforming it into an efficient and inspiring haven.
Storage Ideas: Discover ingenious storage solutions that maximize space, keeping your belongings organized while adding a touch of creativity to your surroundings.
Teaching Children Organization: Embark on a journey of instilling lifelong organizational skills in the young minds around you, setting them up for success.
Time Management and Organization: Unleash the power of effective time management techniques, enabling you to seize the day and achieve your goals with ease.
These articles are not mere words on a page; they are opportunities waiting to be explored. With your personal touch, the addition of examples, and the inclusion of captivating visuals, your audience will be forever grateful.
Don't miss out on this incredible deal!
Get your hands on these captivating Getting Organized PLR Articles today, and transform your content game.
ONLY $9.97!