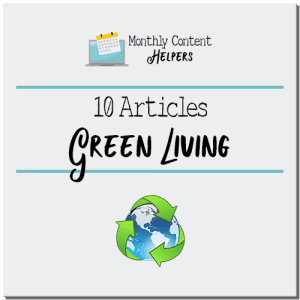 Your Ticket to a Sustainable Future!
Hey there, eco-enthusiasts and champions of the green revolution! Are you ready to take your blog, website, or product promotion to the next level? Look no further, because we've got just the thing for you. Our Green Living PLR Articles are the secret weapon you've been searching for!
Picture this: each article in this pack is a delightful blend of informative goodness, clocking in at a minimum of 450 words. Crafted with care and backed by scientific accuracy, they'll captivate your audience and leave them craving more. It's time to turn your passion for sustainable living into a powerful force for change.
So, what's on the menu? Brace yourself for an electrifying lineup of knowledge-packed articles:
Carbon Footprint Explained: Decoding the Footsteps of Our Planet
Easy Ways to Reduce Your Carbon Footprint: Small Steps, Big Impact
How Solar Energy Works: Illuminating the Power of the Sun
Importance and Advantages of Renewable Energy: Unleashing the Green Revolution
10 Reasons to Recycle More: Discover the Magic of the Circular Economy
Solar Energy Facts: Shining a Light on the Sun's Superpowers
Sustainability and Why It Matters for The Future: Paving the Way to a Brighter Tomorrow
Teaching Kids About Sustainability: Planting Seeds of Change in Young Minds
Top 7 Types of Renewable Energy: Exploring the Energy Ecosystem
What is Net Metering: Unlocking the Secrets of Energy Balance
But wait, there's more! These articles aren't just for reading and nodding along—oh no! They're the perfect catalysts for exciting activities that will engage your community. Organize a challenge, host a mind-blowing webinar, or use them to spark captivating discussions on social media. The possibilities are as limitless as the power of renewable energy itself.
Oh, and did we mention that you're in complete control? That's right! With this package, you can unleash your creativity and tailor these articles to your heart's desire. It's like having your very own sustainable superhero squad at your fingertips, ready to save the planet, one word at a time.
Ready to dive headfirst into this treasure trove of green wisdom? Hold on tight because here's the best part. It's a small investment with a massive return, both for your business and the environment.
So don't hesitate, fellow eco-warrior! Seize this opportunity to make a difference while making your mark in the online realm. Grab your Green Living PLR Articles now and let the world know that sustainability is the name of the game!
Disclaimer: Results may include increased awesomeness, heightened green vibes, and a contagious passion for saving the planet. Proceed with enthusiasm!
Grab these Green Living PLR Articles
for a TOTAL cost of ONLY $9.97!