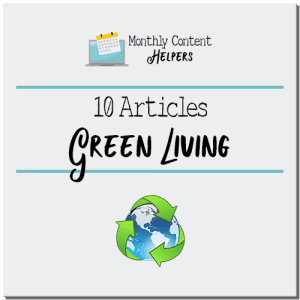 Today, sustainability and renewable energy are all the rage. If you have a blog, website, or promote products that fit into the green living category, this pack will do wonders for you. Each article is at least 450 words, well written, and accurate according to science. Use one of these articles to organize a challenge, host a webinar, and promote sustainable living. Don't miss out. You can use this package any way you want to.
List of Articles
Carbon Footprint Explained
Easy Ways to Reduce your Carbon Footprint
How Solar Energy Works
Importance and Advantages of Renewable Energy
10 Reasons to Recycle More
Solar Energy Facts
Sustainability and Why It Matters for The Future
Teaching Kids About Sustainability
Top 7 Types of Renewable Energy
What is Net Metering?
Get these Green Living PLR Articles
for a TOTAL cost of ONLY $9.97!