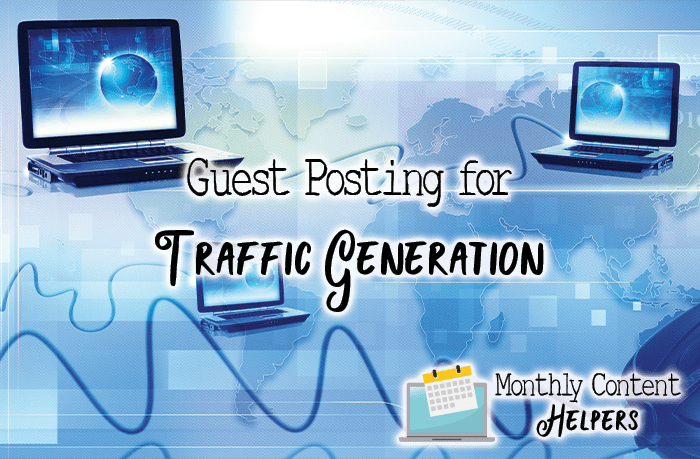 Yes. Guest posting still works for traffic generation. Of course, you need to be super strategic for guest posting to be successful at generating traffic to your website. Let's learn quickly how to do this.
Write for Related and Creditable Websites and Blogs Only
Before you start writing for anyone, especially free as a traffic generation technique, first check out the website or blog very carefully. How much traffic does it get? Who is their audience, and how responsive are they? Does the owner promote posts and keep content up regularly? Don't waste your time guest posting on a dead blog.
Keep Your Unique Brand Voice
Don't change your personality for someone else's blog. Use your brand voice. If you are generally serious, be serious. If you usually are funny, be funny. Use the type of words you normally use for your topics because you want to attract your audience and maintain your branding throughout.
Write for Their Audience Specifically
While you want their audience to be your audience, they are a subset of your audience. Therefore you need to make an avatar or profile for them so that you can ensure you're thinking about the content you create or buy is right for your audience. It needs to be useful for them as well as enjoyable enough for them to bother reading much less clicking through to your landing pages.
Include Links to Your Website
Don't guest post for people who won't allow links back to your website. No one is going to come to your page without a link. They're not going to do the work for you. Offering a direct link and asking them to click on the link with information about why they should, is very effective. When you have links on credible websites, the search engines rank you higher, and your audience probably does too in their minds. Create personalized landing pages for each audience you write for so that you can track and measure results.
Answer Questions and Engage with Readers
When you guest post, don't just publish and run. Instead, take the time to read and answer questions in the comment section. The more you engage with the readers, the more they're going to trust you even if they don't add to the conversation. Remember, there are always many more readers than commenters. But they are watching how you engage to ensure you're a real person worth trusting.
Promote Your Post and Ask That the Website Host Does Too
Publishing and then waiting isn't an option these days. You need to promote every post you publish on and off your site as if it's one of your best products. Share on social media, with your email list, boost the post by paying for ads, and make sure people know you are guest posting there. Ask that the host promote you as well via their email list to get the most out of guest posting for them and you.
Publish Regularly as a Guest on That Website or Blog
Don't expect to do this once and reap all the rewards. You don't have to guest post often to make a difference. Most studies show that once a month on any given blog, that isn't yours is sufficient, but you don't want to do less than that.  Try to work out a deal with the owner that allows you to do it at least one year of guests posts to get more traction.
Use Good SEO Practices
While you may not have as much control over the post when it's a guest post you should still ensure that you use good SEO on the post. On-page SEO is essential to ensuring that not only is the content readable and understandable to your audience but findable as well. If they cannot find you, they cannot read it, and then they won't get to know you, trust, you and of course they won't buy from you without that.
Track the Results
Of course, nothing is done until you track the metrics. You cannot be sure of what is real or not if you don't look at the data. Your gut is not sufficient to tell you what works and what doesn't work. Look at the numbers to find out.
Submitting and strategically publishing guest posts can increase your traffic exponentially as well as help establish yourself as an industry thought leader. It's a win-win for traffic generation as well as boosting your expertise status.