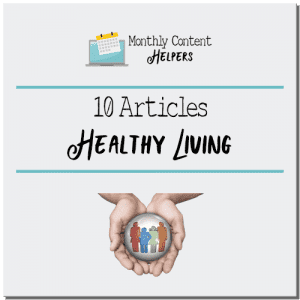 Want to teach your audience to live healthier? These healthy living articles will inspire you and delight you. Each is at least 450 words long, well written, can be backed up by research, and you can use them however you want. Turn them into autoresponder emails, create a course, or combine to create a book. It's up to you.
List of Articles
Eating More Plants for Better Health
Exercising for Healthy Bones
Healthy Living for Children
Healthy Living for Men
Healthy Living for Women
Hot to Radiate Health
Sleep and Your Health
Taking Care of Your Skin
Understanding Your Genetic Risks
Water and Your Health
Grab this 10 Pack for Family Budgeting right now so that you can get your financial life in order or help others get theirs in order. You can turn these ten articles into a report, an e-course, or a webinar series. It's totally up to you.
Get these Healthy Living PLR Articles
for a TOTAL cost of ONLY $9.97!