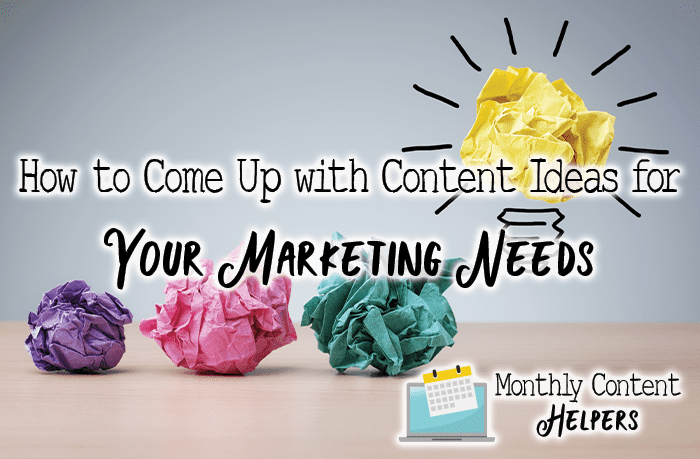 It never hurts to examine your content marketing strategy to ensure it is strong, innovative, and up-to-date. Whether you have been using the same approach for a while or just starting out with content marketing looking at where you've been and where you are going will help you improve over time.
Having a concrete, smart content marketing plan in place is the first step towards standing out from the crowd. If you need some new content ideas to add to your marketing plan or you have problem planning for your next marketing campaign, here are some ideas for coming up with content ideas for your marketing needs.
1. Use Private Label Rights (PLR) Content
Private Label Rights, abbreviated most commonly as PLR, are readymade or done for you content provided for your use in your content marketing. PLR is a license offered at a reasonable price and an ultimate shortcut to content marketing. With PLR, you have the choice of including your name, adding to the content to make it your own, or even using as-is.
Using Private Label Rights Content to Save You Money and Time
Use PLR as a website content including articles and blog posts.
Merge Private Label Rights articles to come up with a keyworded HubPages article or publish on sites such as Medium.
Generate an eBook or digital report to give away and make use of in your viral marketing efforts.
Cut a PLR eBook and use it as an email newsletter series. Make sure you add appropriate information and links to every email.
Use PLR as the foundation of your research for press releases to announce your marketing campaign, affiliate program, eBook, or website.
Repurpose PLR into a new format. For example, a blog post into a YouTube video.
Turn a "how-to" eBook into an e-course.
2. Idea Generators
If you are tired of using the same old titles all the time, look no further than idea generators. An idea Generator is a smart and easy way to take your content marketing to the next level with your creativity. If you need to generate new content ideas for content marketing, idea generators are the creative tools for you.
3. Content Ideas or Suggestions from Google Search
Google search is a smart way to look for the general topic you have in mind. Don't miss the "relevant" searches list at the bottom of the Google page search results. Also, look at the Google search suggestions. The fact that you know the topics will be relevant to your target audience is what makes it a good content marketing strategy. Also, you can be assured that these titles or topics will be SEO friendly because you got them from Google.
4. YouTube Videos
Start a YouTube account so that you can start adding content to it. Having different forms of content can make a big difference. Use this profile to upload videos, embed them into your blog, and share the videos on all your marketing channels. On the other hand, YouTube can be a resource for creating new ideas too. You can search for your subject matter to find out what videos people are making. Don't forget to read the comments. Start by using content from your most popular blog posts to create your first videos, then listen to your audience tell you what they want you to make your next video about.
5. Competitors Websites
You can check through the website blog of your competitors if you are not confident or sure of what to write about. As a matter of fact, this is a great way to create long lists of topics in bunches. In doing this, don't plagiarize or steal, but you can use their titles for idea generation. Go over their posts to come up with those topics you are yet to cover. Don't forget to look at the comments on their posts too. You can get even better ideas many times in the comment section.
6. Outsource
One sure-fire way to come up with plenty of content ideas is to hire a content marketing strategist or a content writer. A writer can often come up with ideas based on the subject matter, the goal of the content, and audience knowledge. You can usually find someone to write content for $20 and up per article.
Content marketing helps generate website traffic and new leads. You should not be struggling to create new content ideas again, even if you don't consider yourself a writer. You can generate content for your marketing needs by buying PLR, hiring a content writer, and through different methods of brainstorming. There are many resources you can use to create a long list of new content marketing ideas. Look for ways to take advantage of these ideas so that your content stands out from the crowd.