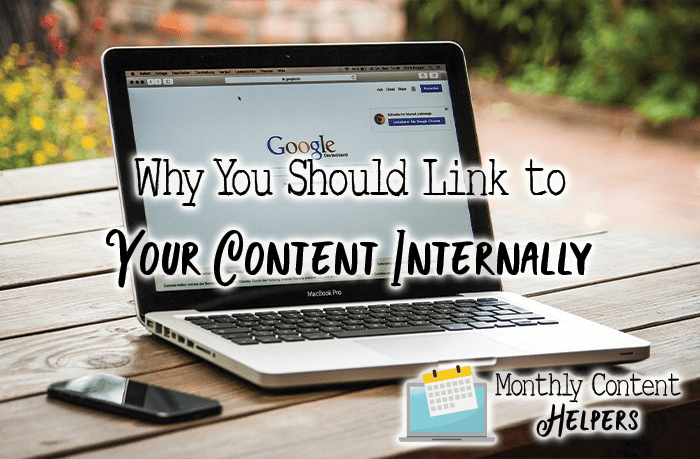 When you look at any website, you'll see a variety of links. Some links connect to outside the website and some links connect to other information internally. Linking internally will simply connect the user to another page inside your website and never leads outside of your website. If a link leads to information outside your site that is called an external link.
Helps Bots (and your audience) Determine Relevancy
Linking internally on your site help users and search engines determine the relevancy of your website to the searcher's needs. The search engine uses this information to rank your site. They'll base their judgment about your site on whether the links match the information they first found on your site.
For example, if a guest (or a bot) clicked through to your website by clicking a headline that leads them to believe your website is about cats, but they only find information about rabbits in the links, they may conclude that your website or blog is not about cats after all. Therefore, the site is not right for cat lovers but rabbit lovers.
Improves Website Architecture
A well thought out internal linking strategy is part of the structure or architecture of your website, and because of that, your internal linking strategy is critical to effective search engine optimization (SEO).
When a search engine bot comes to your site, they use internal links to find more pages on your website. Having internal links allows them to index your content on your site by subject matter. Given enough of these types of links, the search bots get to know your website quite well, enabling the search engine to judge whether your site is relevant to the searcher or not.
While traffic generation is the goal of internal linking, there are other benefits of linking internally.
For example, when a person comes to your site, consumes the content they clicked through to see, the internal links are going to ensure that they stay on your site longer.
Getting your audience to stick to your content is effective because you are offering them more to read based on what brought them to the site. As long as the content they consume is useful and relevant to their search, they'll stay around even more.
Plus, of course, the more they consume, the more likely they are to sign up for your list, buy your products, or use your services, and tell others about you, thus building your traffic even more.
For best results, include internal linking on every page so that all pages are crawlable. Make sure all the links work too. Use keywords for the anchor text for each link and not the raw link.
Ideally, you want every page of your site reachable by search bots or humans within five clicks. According to Alexa.com, if you can do that, you'll increase your site's effectiveness, stickiness, and get more traffic too. How your website looks is important to so don't mess up the look and feel of your site to add too many links. But you can put as many internal links on any single page of your site as long as they are useful to your audience and the search bots. Internal linking will improve your ranking and also keep your visitors on your content longer.