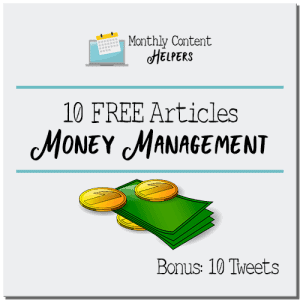 This package of 10 Articles will help your customer manage their money. If you want to help your audience manage their money, these Money Management articles are the set for you.
Each article is a minimum of 450 words each, grammatically correct, and financially sound.
List of Articles
12 Great Jobs for Retirees
Eight Tips on How to Sell Things You No Longer Need
Holiday Tips for the Money-Savvy Retiree
How to Set a Budget
Investment Tips for Retirees
Making the Most of Your Health Insurance
Nine Everyday Discounts You Don't Want to Miss Out On
Tips on Being Tax Efficient with Your Savings
Ways to Make Money from Your Property
Where to Get the Best Financial Advice
Grab these 10 Money Management Articles right now so that you can help your audience manage their money. You can turn these ten articles into a report, an e-course, or a webinar series. It's totally up to you.
Get these Money Management PLR Articles
for FREE!