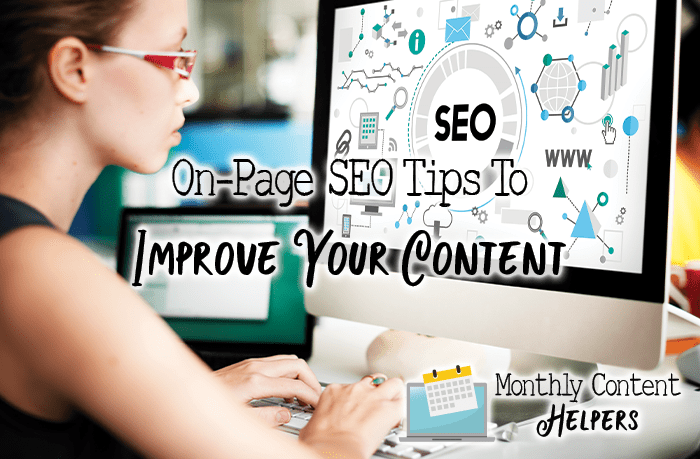 Getting more traffic using SEO is an important way to attract your ideal audience to your website, landing pages, and products. You can make it easier by using software like Yoast, an SEO plugin that will help you improve your on-page SEO substantially, but even if you don't want to use something like that, you can improve your SEO on your site easily. These on-page SEO Tips will help you optimize your website and get more traffic.
Do the following to quickly improve the SEO on your website:
Put Keywords in your URLs
When you name the page you are creating the name of that page will become a URL. You will use that URL you created to share the content with others on social media and other platforms. To get people to click you need to be sure the URL has your keyword in it. Front-load the keyword in the title of the content.
Use Keywords in Your Title and Header Tags
Putting keywords in the title and header tags is very important because it informs the search engines and your audience what your information is about. Your audience is more likely to read the information and the search engines will know how to categorize your information and content so they can send the right people to the information.
Add Keyword Once to The First Paragraph
When you introduce your content, you want to use the keyword, keyword phrase, or a modified version of the keyword in the first paragraph within the first 150 words of the body content for the search engines. This also acts to help inform the reader that this is the information they wanted to learn.
Optimize Your Images
Add information to the alt tags of your images and name the image file accordingly with keywords. Using alt tags and file names this way helps the search engines understand what the image is which further verifies that your website is about the topic the searcher wants to know. However, optimizing images in this way also helps anyone using certain screen readers know what the image is if they can't physically see it.
Of course, you also want to fix any broken links, ensure that your pages load fast and that your site is secure with the HTTPS protocol. When you do these easy on-page SEO actions, it ensures that your site will be adequately scanned by the search engines but that it's also readable, understandable, and enjoyable for your audience. Not only that, whether you created content originally or you're using private label rights content, doing these additional steps to optimize your on-page SEO ensures the content will perform the way you wanted it to when you created it or bought it.