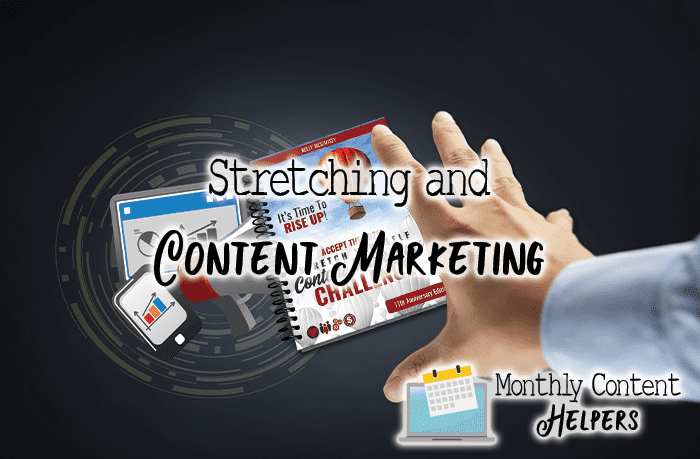 I'm sure you're asking yourself what does stretching have to do with content marketing. My friend Kelly hosts the Stretch Yourself Challenge every year, and it revolves around upping your content marketing game. This is the 11th year of the challenge and my 5th year participating. Every year I learn something new no matter my level of participation, and it's motivating. Last year, I used it to stretch outside of my comfort zone and shake things up in my graphic design business.
This year I'm using it to give Monthly Content Helpers a vision and a focus.
What I Love
One thing I love about the Stretch Yourself Challenge is the community. I get to work with a group of amazing business owners in all stages of business and expertise to stretch beyond where we're currently at. During the live challenge, the support and friendly competition are great for gaining motivation and momentum, and she makes it easy for everybody to win something. I love how people use the challenge to get a great start in their new business.
Another great thing about the challenge is the guide. Kelly lays out each challenge step-by-step and makes it easy. She has a saying, "What if it were easy?" With her guide, it is easy. Super easy. And if you get stuck, the forum and community are there to help you figure it out.
Last Year's Big Stretch
Last year, Kelly introduced the idea of coaching triads. In short, it's a group of three people meeting in a Zoom call and coaching each other 10-15 minutes at a time. When she first brought it up, I thought no way am I doing that! This introvert was a heck no to that!
Then I had a talk with myself and reminded myself that I was supposed to be stretching. I forced myself to do one… for the stretch and the experience. I shocked myself by really enjoying it. Three people was manageable. Ten to fifteen minutes was manageable. I ended up doing four or five of them last year, and I've done six so far this year, and we're only halfway through the month.
(You can learn more about coaching triads by grabbing Kelly's free guide here. If you do, let me know. I'd be happy to help you with your first triad.)
It is Never Too Late to Sign Up
The guide is also offered as a self-study option once the window for the live challenge is over. It's an amazing blueprint of helpful steps to up your content marketing game no matter where you are in your entrepreneur journey.
Same great guide. Same great community. Worth it.
I recommend the Stretch Yourself Challenge because no matter what type of business you have you need content marketing. Kelly is one of the best to learn from. You should check it out.