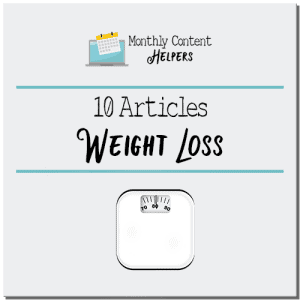 Introducing our amazing package tailor-made for the weight loss community! If you're in need of captivating and informative articles that cover all aspects of the weight loss journey, look no further. Prepare to be delighted by our incredible collection! Each article is a treasure trove of knowledge, containing a minimum of 450 words expertly crafted to engage and educate your audience, without relying on fleeting fads.
Here's a sneak peek at what's inside this fantastic bundle:
Easy Food Substitutions That Satisfy: Discover ingenious ways to swap out ingredients without sacrificing taste or satisfaction.
How to Love Yourself Before Losing Weight: Uncover the secrets to embracing self-love, fostering a positive mindset, and building a strong foundation for your weight loss journey.
Issues and Problems with Losing Weight: Navigate common obstacles and challenges that may arise on the path to shedding those extra pounds.
Losing Weight by Counting Calories: Learn the science behind calorie counting and unlock the key to achieving your weight loss goals.
Losing Weight on a Vegan Diet: Explore the wonders of a plant-based lifestyle and its remarkable impact on shedding unwanted weight.
Losing Weight on the Paleo Diet: Embark on a journey back in time to uncover the primal secrets of the paleo diet and its weight loss benefits.
Losing Weight with Exercise: Discover the power of physical activity and how it can turbocharge your weight loss efforts.
Losing Weight with Raw Food: Dive into the world of raw food and unleash the transformative potential it holds for your waistline.
Overcoming Overeating Without Willpower: Unveil effective strategies to conquer overeating habits and regain control of your relationship with food.
The Science of Weight Loss: Delve into the fascinating scientific principles underlying weight loss and gain a deeper understanding of your body's amazing capabilities.
An entire library of weight loss wisdom is at your fingertips for a fraction of the cost of having articles custom written for you.
So don't miss out on this extraordinary opportunity.
Grab your Weight Loss PLR Articles today and equip yourself with the tools to inspire, educate, and empower your audience. Together, we'll make weight loss an enjoyable and fulfilling journey for everyone involved. Get ready to transform lives and achieve greatness!
ONLY $9.97!