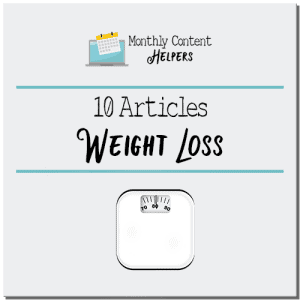 If you serve the weight loss community and need general articles that cover the gamut this package will make you very happy. Each article is at least 450 words, they are well written and don't rely on just fads to get the weight loss information to your audience.
List of Articles
Easy Food Substitutions That Satisfy
How to Love Yourself Before Losing Weight
Issues and Problems with Losing Weight
Losing Weight by Counting Calories
Losing Weight on a Vegan Diet
Losing Weight on the Paleo Diet
Losing Weight with Exercise
Losing Weight with Raw Food
Overcoming Overeating Without Willpower
The Science of Weight Loss
Get these Weight Loss PLR Articles
for a TOTAL cost of ONLY $9.97!